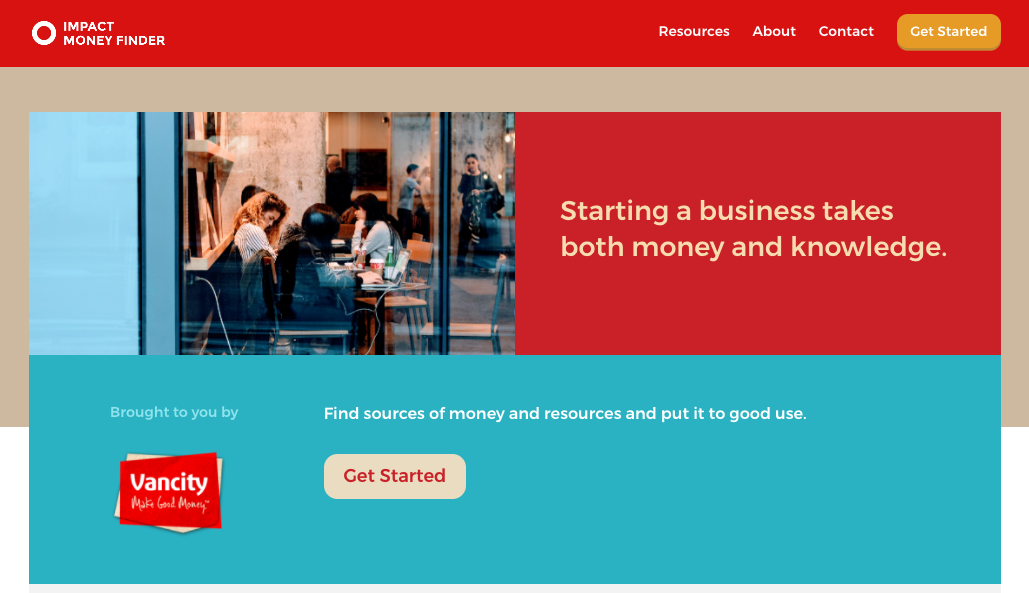 Screenshot via Impact Money Finder
Are you an entrepreneur looking for grants? Want to know what loans are available for your business? Or perhaps, are you looking for some framework on impact metrics or which accelerator is going to be right for you and your startup?
To answer all those questions and more, we're pleased to share the soft launch of the new and improved, Impact Money Finder. This is an accessible business tool, which consists of carefully curated resources; both financial and non-financial, from across Canada and is aimed to help you navigate the journey of finding the right money and support for your impact business.
Impact Money Finder has been created through collaboration between Vancity, Spring Startup School and other ecosystem partners, such as Futurpreneur, BDC, NRC Concierge, and others. As entities that support the innovation economy, we are aware that starting and growing a business takes grit, determination, long hours and lots of research. We also recognize that finding the right kind of money and support is key. Given all the options out there, we know it can often feel overwhelming and unclear. We hope that Impact Money Finder can help overcome some of these questions and provide a great foundation for your impact business.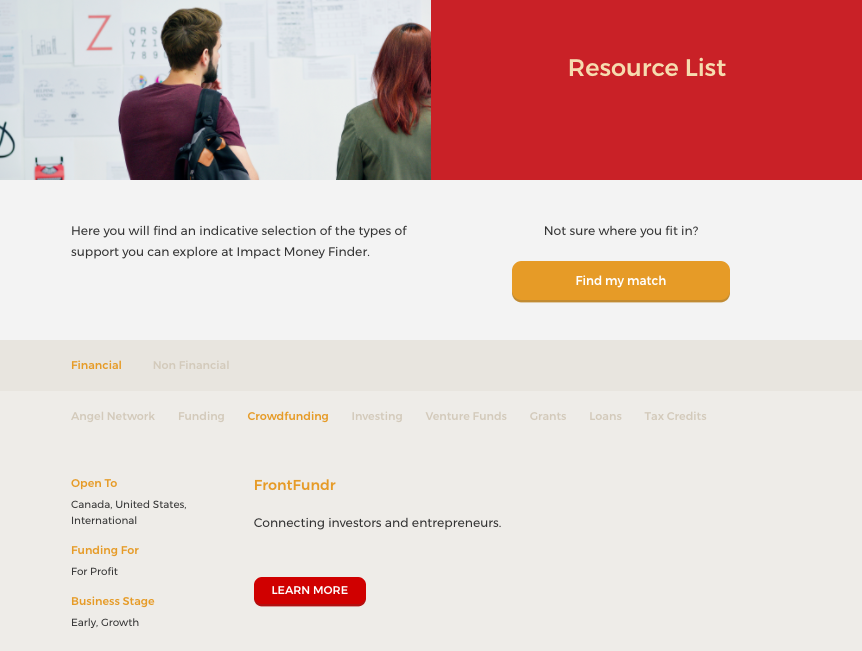 Screenshot via Impact Money Finder
So, how does it work? You can either browse the site to explore all the resources or do a more targeted search if you already know what you're looking for. Once you've had a chance to jump in and you've found options that look interesting, you can save the robust list of resources for your reference.
Next, if you are ready to take it a step further, go ahead and apply for the related funding or resource through the organization's own application process. Where possible, we've even included the relevant criteria for your convenience! The idea is to provide you with the up to date information and context you need to feel empowered to access the funding and business resources you need to make your startup thrive.
So from Spring Startup School, Vancity and all the other partners who brought this to fruition, we hope you find deep value in Impact Money Finder. We invite you to visit www.impactmoneyfinder.ca and send over your feedback to our Chief Impact Officer, Sana Kapadia at sana@spring.is