For our latest #SpringAlumni blog series, we join Sarah Common, Chief Community Officer and Executive Director of Hives for Humanity, to chat about how her social enterprise connects people with nature and teaches the people of the Downtown Eastside community how to raise bees, produce honey and seek their own form of healing.
Take the leap and launch your business this summer!
Talk to a Spring advisor today about our Launch program.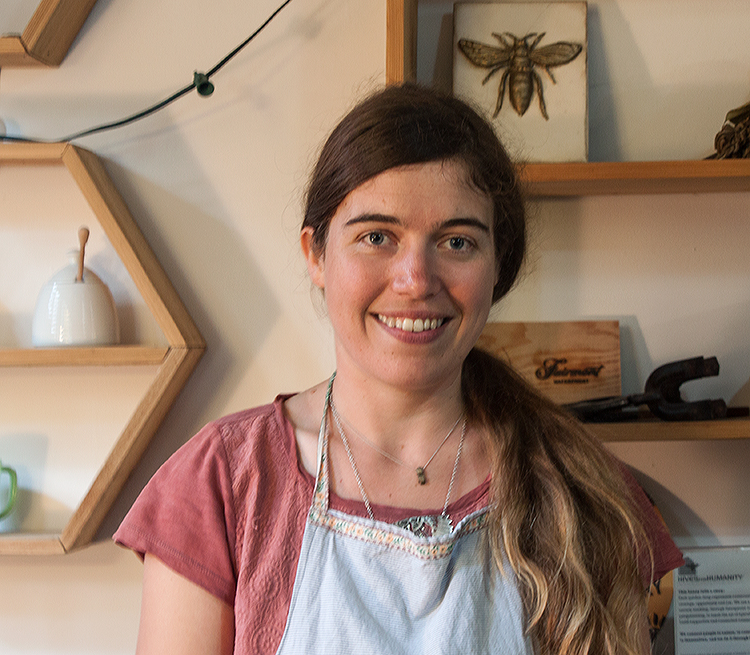 Sarah Common, Chief Community Officer and Executive Director of Hives for Humanity. Sarah is a graduate of our Launch program (formerly known as Kick)
How does beekeeping lend itself to community building and social connection?
Beekeeping creates an opportunity for people to come, get involved and engage with the people and nature of the garden. It brings a different physical presence into the room, a presence that we don't get every day — the presence of bees. It carries curiosity in people, questions of how they can be of impact for the tiny ones and engages them in finding those answers for themselves.
The act of beekeeping brings that sense of community in all aspects of the garden — holding a frame of bees in your hand is one. There are responsibility and accountability there. There's an understanding that your movements, your energy, your smell, your volume, your movements can have an impact on those bees. You can choose to make a positive impact that is almost immediate. The fact that bees connect the garden in almost everything, from the water to the flowers to the products of the hive — it gives people many ways to get involved and find their own connection. It's a space where regardless of your ability, or your perceived ability, there's a place for you. So I think that experience, where people feel welcomed by the bees teaches them that community and impact exists and the other stuff dissipates.
How is your community sustaining its impact and reach?
At first, we thought that sustainability would come from teaching people how to bee keep. We thought that if we taught them, they would graduate and move on to do beekeeping things of their own. However, that was not the case. It's the community that's the healing thing, the sustainability piece between reaching outward and impacting inward.
What we're finding is we have the therapeutic beekeeping program that's very flexible where people can come in and out of it as they like in different locations. They can find whatever place in it that they want and take part as they please. Out of that, what tends to emerge is certain people at every location who want to learn about the bees, and they really want to help make decisions in managing the colony, go see other colonies at other locations, and then also take on the role of teaching their peers. And from there, reaching outward and further into leadership roles, like our Mentorship Program — working alongside people wherever they're at, finding places for them to engage and bring them forward in their skill.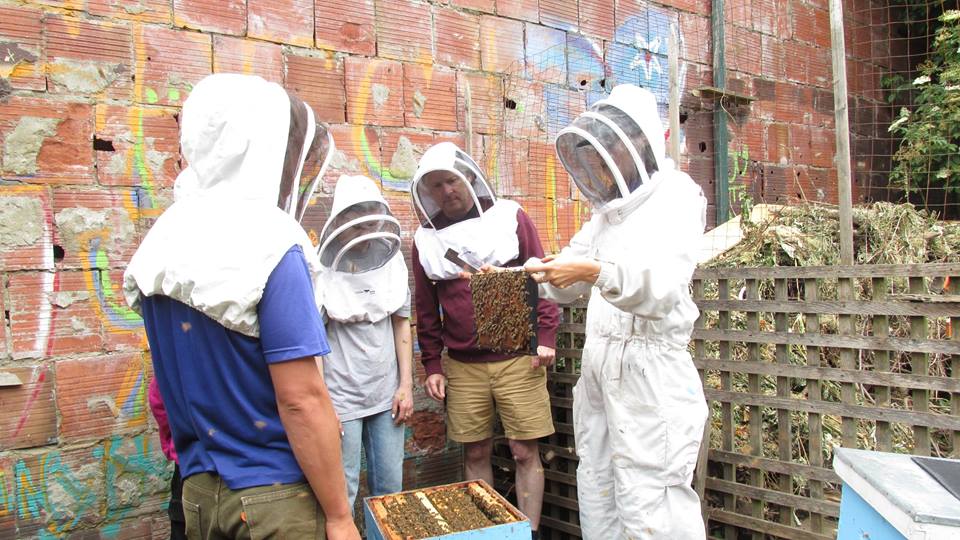 Teaching beekeepers how to inspect the frames. Photo by Hives for Humanity (Facebook)
Have the programs at Hive for Humanity helped encourage any of the participants to pursue other social impact opportunities?
There's this guy who was at one of our buildings under our mentorship. In conjunction with getting some better support for his personal health, getting a better opportunity for more independent housing, and the bees and the skills, the stability and the self-worth generated from that experience, led to him getting a job elsewhere. He'd been working at Potluck Cafe and Hives for Humanity while getting support from his doctor and his housing team — all four of those things came together and he then accepted this a job at RainCity Housing to support and different impact on his own community.
Any advice for people who want to build community through a social enterprise?
You need to establish trust. That's why we have such a rich list of partners because there's so much value in having strong partnerships, you can access the community that the partner has been doing all the relationship building with. I think we're stronger when we partner and collaborate.
What I always say is you need somebody who is an expert beekeeper, and you need someone who is an expert in that community, in building community relations, in building community engagement. Being an expert means you have to know how to build relationships based on respect and dignity. If you can do that, then the beekeeper can come in or the master gardener can come in with their skills. You need that solid social piece for those other pieces to work if you're doing it in a community that faces barriers to stability. Know the balance between environment and social, it is really key. I don't think either can succeed without the other. Having your key people who are experts in both fields and crossover partnership. That's the critical piece and the sustaining factor in any social enterprise.
Get your product to launch. Let Spring show you how.
Sign up to chat with our startup advisor today about our Launch program.