In celebration of National Volunteer Week, we joined our friends at Futurpreneur to discuss the importance of mentorship for entrepreneurs and to honour and celebrate our volunteer mentors who help make the Canadian entrepreneurial ecosystem stronger and brighter.
As someone who has been a mentor and advisor to countless startups, Keith Ippel, CEO and Cofounder at Spring, joined the Twitter Chat to share his thoughts and experiences. Since there's so much more to say about the topic of mentorship than Keith could fit into 140 characters, we expanded his answers below, in addition to a few of our favourite tweet highlights, to hopefully give further insight and tips to on how mentorship can help your startup thrive and succeed.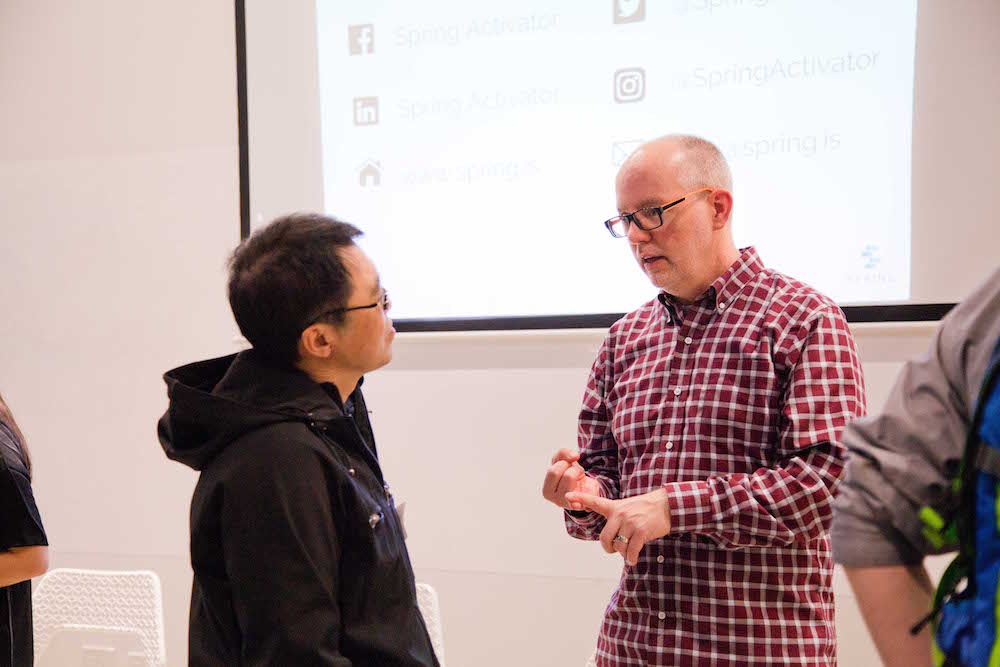 Keith Ippel, CEO and Cofounder of Spring, giving advice to an attendee at our recent Tech101 for the Non-Technical Founder event. 
Q1) Do you have a mentor in your life whether informally or formally?
I have a mentor informally, and have had that relationship for about 10 years now. I also have a group of peer mentors I can call on as well.
Q2) How has mentorship helped you as an entrepreneur or in your career?
First, it's a great reminder that I'm not alone even when in the role of CEO. Second, the accountability on tough decisions and ensuring I keep velocity is invaluable. Third, entrepreneurship is a journey and it's key to have someone who knows you and your organization over time to give meaningful advice.
A2) Their bigger picture/fresh perspective helped me
see beyond immediate/short term challenges #iheartmentors

— Linda Morana (@FuturpreneurMIR) April 25, 2017
Q3) Why do you feel mentorship is so important to new entrepreneurs in particular?
Starting a company is hard — having a mentor can help you avoid rookie mistakes. They can help keep you sane and moving at the pace you need to in order to succeed. I find having accountability is crucial with so much happening when starting a business.
Q4) Mentorship is said to help businesses survive 5+ years. Do you agree that mentorship plays a role in a business's survival rate?
If you manage the relationship well and look to get the most out of it, then yes. I encourage people to find advisors who have specific experience and network connections and a support organization like an incubator, accelerator, or startup school like Spring 😉 to further increase your probability of success. 
A4: We've seen it countless times w/ entrepreneurs. They help support all facets of a business, including long term growth. #iheartmentors

— FWE BC (@FWEBC) April 25, 2017
Q5) What about peer-to-peer mentoring? How valuable is it to look to your peers for guidance and advice?
Absolutely invaluable. Peers in a similar space and at a similar stage really help to gain quick clarity on so many minor issues. That way, they don't slow you down and you can swiftly make space to tackle the big things when they come up.
A5: Crucial. Talking to people who have been there and done that in a supportive environment is invaluable. #iheartmentors

— FWE BC (@FWEBC) April 25, 2017
Q6) What do you think are the most important things to look for in a mentor?
Someone with experience and someone who's experienced in mentoring. No point in having a 25-year-old mentor as they haven't been through enough yet to bring the wisdom to the questions and issues. You should also look for a mentor who is an excellent listener. Someone who can hold you to task and someone who teaches you to fish and don't fish for you.
A6) Mentors need to ask tough questions but let the entrpreneur find the answers. #Iheartmentors

— Mary Jane Copps (@thephoneladyca) April 25, 2017
A6. Willingness to share skills & give constructive feedback, empathy, positive attitude #Iheartmentors

— Women's Enterprise (@businesswomenbc) April 25, 2017
@Futurpreneur A6) Alignment in values and someone that I can see myself forming a reciprocal relationship with over time #Iheartmentors

— Jeremy O'Krafka (@jeremyokrafka) April 25, 2017
Q7) What are your tips and advice to get the most out of a meeting with your mentor?
Trust, authenticity, and confidentiality is everything. Have an agenda. Give them updates in advance to ensure they have context so you can focus on the big stuff. Finally, finish with action items to keep yourself on track.
A7) Set goals each week and track them. It's also important that they hold you accountable to meet those goals #Iheartmentors

— United&Free (@beunitedandfree) April 25, 2017
Q8) Give a shout out to a mentor you've had (past or present) that has made an impact in your life.
John Diack, serial entrepreneur, former Chair of AceTech, and CEO coach.
Looking for accountability, mentorship, and peer support with likeminded entrepreneurs in similar growth stages?
Learn more and apply for the Founders Mastermind at Spring now!