Leadership Health & Wellness: Lunch & Learn
June 21, 2018 @ 11:45 am

-

1:30 pm

PDT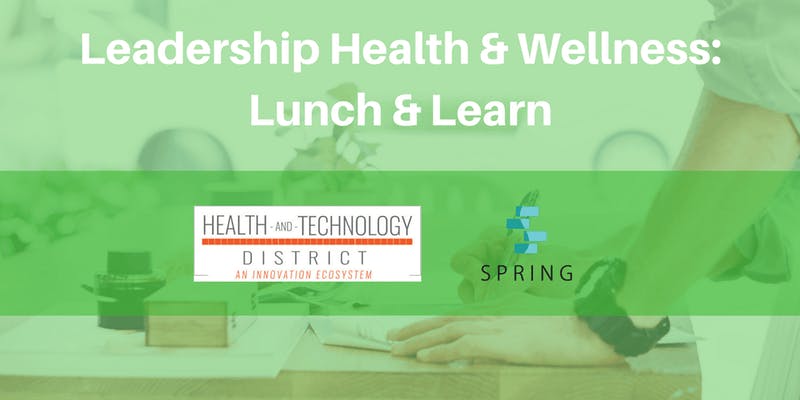 Be a leader to your own health and wellness!
Stress from work can take a toll on you and your health, therefore, the Health and Technology in partnership Springbrings you the Leadership Health & Wellness: Lunch & Learn.
Our speakers, Nadya Pecherskaya and Faris Khalifeh, will help you do your entrepreneurial ventures while keeping your health in check. This will help you live a balanced lifestyle (that's practical) so that you can be more productive and efficient. We will also dive into factors that can affect your mental, emotional, and physical wellbeing so that you can take necessary precautions when needed.
 
You will learn:
How choices from today can affect your wellbeing tomorrow
To implement a Healthy Eating plan
To understand that health is not only body, but also mindset and mental state
To manage your energy and have more balance in life
Agenda:
11:45am: Doors open – Lunch is served
12:00pm: Introductions
12:05pm: Leadership Health & Wellness
1:30pm: Q&A, Wrap-Up
Please note that spots are limited – make sure you register today!
Speaker:
Nadya Pecherskaya BCom, Certified Nutritional Practitioner
Nadya is the founder of the Entrepreneurs in Health and Fitness community and a serial health and wellness entrepreneur. She has been working as a self-employed nutritionist in Toronto, Ottawa and Vancouver and teaches business at the Institute of Holistic Nutrition. She is passionate about creating a healthier Canada, and has made it her mission to do this by supporting Canadian health and wellness entrepreneurs grow their businesses to reach a larger audience.
Faris Khalifeh BBA, Quiet Leadership Coach
Faris is a Quiet Leadership Coach and named among the Top Six Life Coaches in Vancouver by Crowd Wellness. Coaching clients from all around the world with different backgrounds, cultures and industries, he focuses on uncovering what is true and unique about his clients and assists them in building on their key strengths.
Additionally, he teaches business, leadership and personal development courses at various colleges, runs multiple mastermind groups, leadership roundtables and facilitates corporate training and seminars. He is former Board of Directors of the Vancouver International Coach Federation (ICF).
Faris is also the founder of the Vancouver Quiet Leadership community and Meetup group where he hosts monthly events to support leadership among introvert personality types.
Before becoming a coach, Faris was a marketer serving clients ranging from startups to Fortune 500 companies.
Tell a friend