A two-month-long chapter came to a close on November 27th, 2020 for five purpose-driven entrepreneurs and 19 new impact investors. During the Finale of our 2020 Impact Investor Challenge, the Top 5 ventures pitched their businesses for the final time, and the graduating investor cohort selected one winner to receive the grand prize of $100,000 in investments.
The race was close and it was incredible to witness how much the entrepreneurs had grown and progressed since the first pitch nights of the program. In the end, Indiegraf Media was selected the winner, becoming the second woman-led business in a row to have won the Challenge since its inaugural run in 2019. 
Though this momentous occasion marked the end of this year's Challenge, it is only the beginning of a journey for the many people involved. Read on to find out what's next for the winner, entrepreneurs, investors, and Spring.
Indiegraf Plans to Expand Across North America
Indiegraf is a technology platform for independent journalists, equipping them with a growth and revenue engine so they can focus on what they do best: providing quality news to their communities. For Erin Millar, Co-founder and CEO of Indiegraf, this $100,000 win will help facilitate her company's expansion into North America. That means being able to provide support to more and more journalists. It also means being able to work towards eliminating North America's news deserts, of which there are over 2,000.

Through bolstering the production of meaningful local news, Indiegraf is working towards building more equitable communities where people are more likely to vote and be informed during pandemic outbreaks. We can't wait to see the future Indiegraf will help build!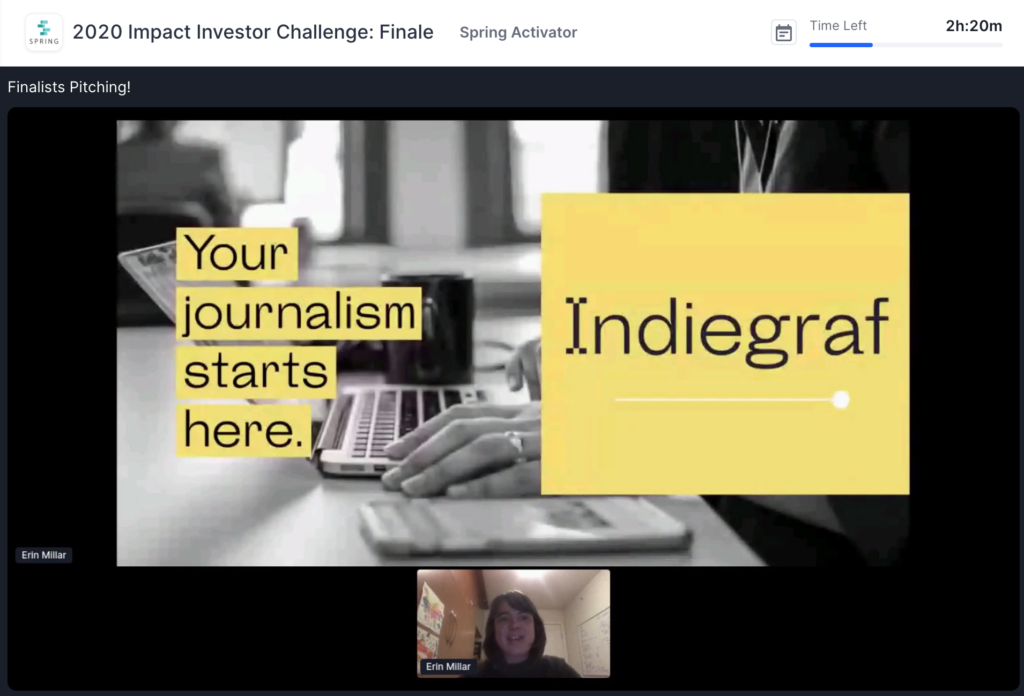 The Ventures Are Better Poised to Receive Impact Investments
Although Indiegraf is the venture walking away from the 2020 Impact Investor Challenge with the grand prize, it's by far not the only one to be walking away with a win. Every single entrepreneur involved in this year's Challenge has taken important steps forward, and multiple finalists have secured investments.
It takes a lot of courage for an entrepreneur to put their idea in front of others, so we celebrate the 120+ social impact ventures that applied this year, and we'd like to encourage them to keep growing (and keep an eye out for our 2021 Impact Investor Challenge programming).
We commend the Top 20 on their pitches and the amazing work these companies are doing to make the world a better place. The learnings gained in the early stages of the 2020 Challenge will help propel them towards success along their impact entrepreneurship journeys, and we're excited to witness it.
Only More Impact Investing From Here for the Investor Cohort
Picking one winner is never an easy task. As Graham Day from the investor cohort put it: "There are far too many good ideas and not enough time to feature them all!"

The Impact Investor Challenge is not about fostering competition, but about growing a community and a network. Even though there is one winner of the Challenge that receives the grand prize, we've seen investors who have participated in the program make independent investments to ventures they have seen pitch throughout the Challenge. Growing the number of impact investments made is what the Challenge is about.
For the participating investors, completing the program is only the first step on their journeys to changing the world through impact investing. For many, the Challenge represents their very first impact investment. It's a gateway into a community of mentors, founders, partners, and fellow investors, and into a breadth of new knowledge that will guide them in continuing to make an impact one investment at a time.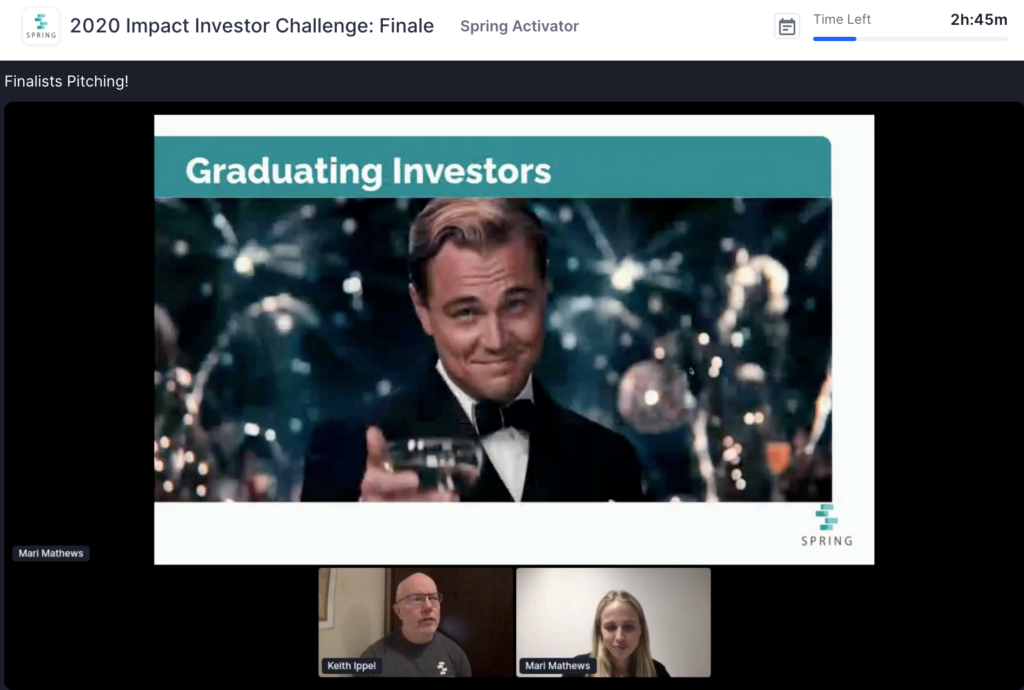 Spring is Gearing Up for Multiple Impact Investor Challenges in 2021
At Spring, our mission to grow the impact investing community is only just beginning. So far, with the support of our partners, we have trained over 80 impact investors, resulting in $200,000 made in direct impact investments and the catalyzation of additional impact investments, surmounting $1,000,000.
Impact is quickly becoming more and more important when it comes to investing and entrepreneurship. With a rise in funding the acceleration of purpose-driven ventures focusing on being socially and environmentally responsible, more questions are being asked about impact investing. At Spring, our aim is to be a sounding board and knowledge resource for everyone from the impact curious to the impact savvy. 
Come 2021, we hope to train upwards of 100 impact investors locally in British Columbia and also in the Yukon and nationally. We hope you join us!
Interested in being part of our 2021 programming for the impact investor community?