Spring Activator just got completed its first B Corp recertification!
What does this mean? B Corp certification indicates that a business meets a set of high standards of social and environmental performance, accountability, and transparency as set out by the non-profit B Lab.
It means that the impact of our practices has been evaluated across five major buckets—Governance, Workers, Community, Environment, and Customers—and we have received an overall B Impact Score of 97.8, placing our business among those that are certified to be good for people and the planet.
Since our initial certification in 2017, Spring has grown and evolved a lot, so this undertaking was quite significant for our team as we re-learned how rigorous this process is, and how much you can discover about your business through the assessment.
As our community is full of purpose-driven leaders many of whom are pursuing or thinking of applying for B Corp certification, we decided to compile four of our major takeaways in the hopes that they will help others along similar journeys. It is, after all, our community that we owe a special thanks to for inspiring us to make a bigger impact every day!
1. Build a Plan Around Your B Corp (Re)Certification
Once certified, a B Corp is required to re-certify every three years. Our major insight gained during our first recertification process was that it is very important to build a recertification plan once that highly coveted initial certification comes through.
How you take your score, learn from it, and put these insights into practice over the following years prior to your next recertification are incredibly crucial to your success in the process. Not only will you have built space for the reassessment in your action plan, but you can also dig into your score components to strategically assess and action which areas you want to improve in your company over the next period.
2. Align Your Documentation Practices with B Corp Requirements
During multiple stages of our recertification process, we grappled with getting our supporting documentation just right. This is a common observance in hyper-growth startups where teams expand rapidly and things move at the speed of light.
At Spring, our team almost tripled in the last two fiscal years, and our work expanded to 52 communities in 26 countries. As a result, our organizational policies and systems went through massive changes to support this growth, as did our documentation practices.
For the B Corp recertification process, documentation needs to be delivered in a certain format and we ended up spending additional time understanding and refining our existing documentation practices to align with what is required. Now we are better equipped for the next recertification process and can pass on the learning to always keep this in consideration when there are rapid changes and growth taking place in your company.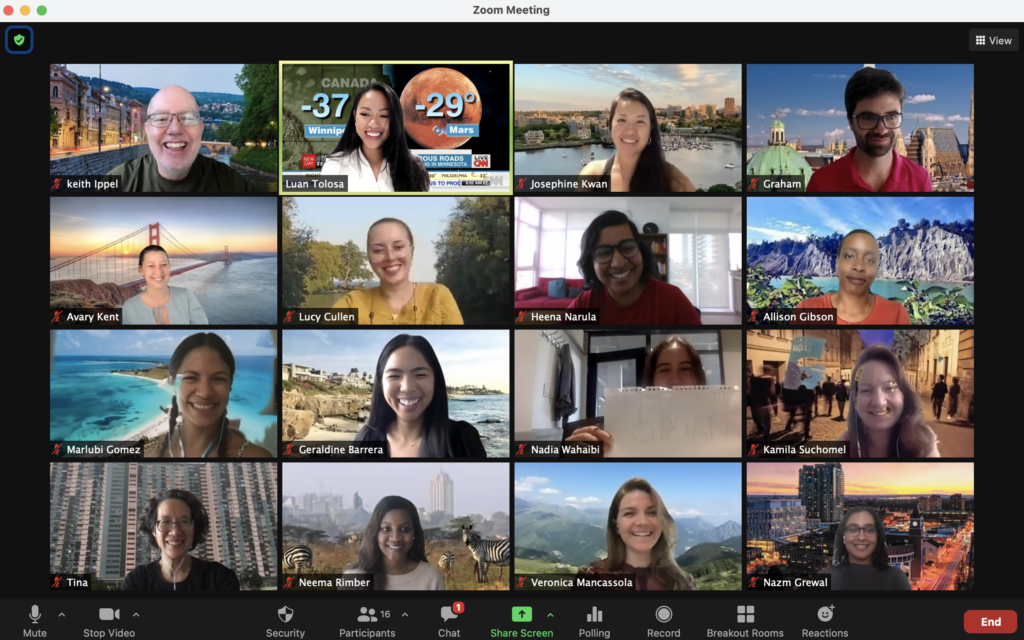 3. An Impact Measurement Roadmap Can Guide You During the B Corp Assessment
This year we did a lot of strategic work at Spring Activator. Not only did we come together as a team to revamp our theory of change to reflect our aims across all the areas of our work (entrepreneur, investor, and ecosystem development), we also sat down to evaluate our existing impact metrics to align with this theory of change. In turn, this process also reflected itself onto our organizational goals.
For Heena Narula, our Community & Impact Manager and lead on the B Corp recertification process, this was a beneficial undertaking because she gained a first-hand understanding of where Spring is headed. This helped her in answering the B Corp assessment questions better and faster, and she shared that "a good understanding of how impact metrics are identified and defined for your organization plays a key role in building a roadmap for your B Corp assessment."
4. Be Ready to Ask Clarifying Questions to Help You Meet Your Deadlines
During the re-certification process, once you have locked in your answers to the questions about the five major B Impact Score buckets (Governance, Workers, Community, Environment, Customers) you will need to upload supporting documentation for all the questions as regards the answers you have provided. This often results in a communications exchange with your B Corp Analyst who is the first person to review your submission.
Our learning from this part of the process was that being prompt, asking clarifying questions, and setting mini-deadlines along the way played a large role in helping us stick to our major deadline of completing the recertification process on time. Your B Corp Analyst is there to help you out, so be sure to leverage them as best you can!
Spring Activator's Next Steps in Preparation for 2024
Heena shared that her work on our first recertification process helped her understand the kinds of questions asked and the documentation needed, along with the thoroughness required. It helped her explore deeply what Spring stands for and why we do things a certain way, and it inspired her to work on building a similar level of understanding among our broader team to motivate higher employee engagement in Spring's bold mission: change the world through innovation. 
Some of our next steps are therefore to incorporate more about what it means to be a B Corporation into our onboarding processes and team learning time.
We will also be thoroughly digging into our assessment report to identify areas of growth and look at them from strategic and operational points of view to build a strong development plan. This will also help us identify key milestones to grow into as an organization.
Finally, we plan to better leverage B Local spaces and learn about other B Corps to better identify best practices that we can easily incorporate, and also to build local community partnerships. We hope you'll join us!
Are you thinking about becoming a B Corp? Visit B Lab to learn more!