As part of the Business Resilience Program, Spring's month-long #BuildBackBetter Challenge has come to an end and we are excited to spotlight the winners!
In light of the unforeseen challenges experienced throughout 2020, Spring launched the Business Resilience Program with support from communities and credit unions. Resilience is an online learning platform that includes bite-sized masterclasses on topics ranging from finances to team planning and digital marketing. It was designed to provide the knowledge-base and support to help small businesses towards long-term success and impact.
In December 2020, six months into the Resilience Program launch, the #BuildBackBetter Challenge was announced to encourage small businesses participating in the Program to work on an actionable growth plan based on their learnings and submit their strategy by January 15. The 1st place winner would receive $10,000 in investment.
The #BuildBackBetter Challenge is an avenue for small businesses to take back the word 'challenge' from the year 2020 and reframe it into something positive and empowering.
And the Winners of the #BuildBackBetter Challenge are...
At Spring, we are overwhelmed by the number of outstanding growth plan submissions, and after much consideration, we are so proud to celebrate these four winners: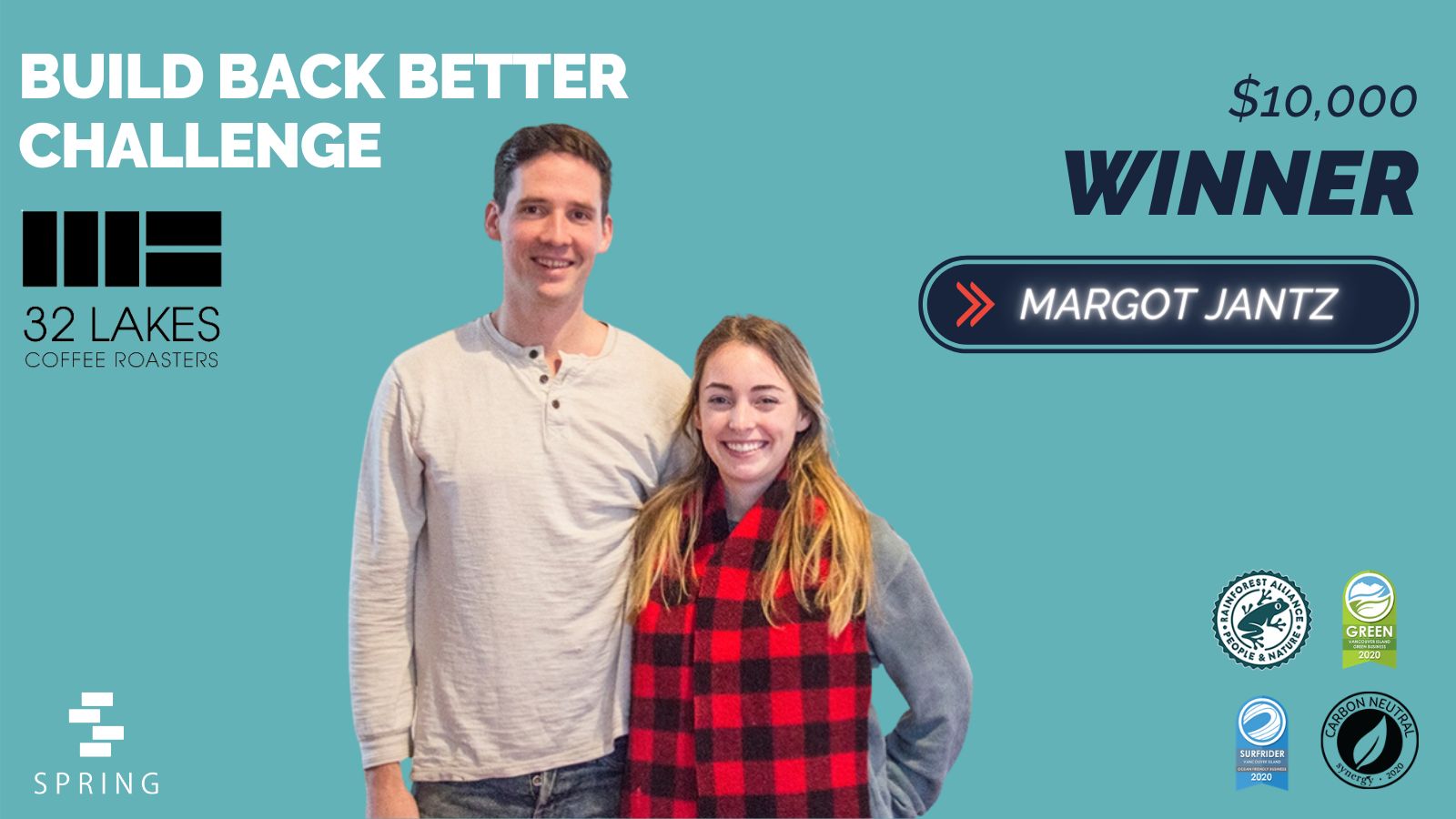 32 Lakes is a specialty coffee roaster & cafe located in Powell River, BC. We love how they offer a range of specialty coffees for every coffee lover while celebrating the coffee farms they work with and striving to lead change on environmental and social issues. They not only 'talk their talk' but also 'walk their walk' on two fronts: impact and business. Check out their environmental and social sustainability plan here!
What's in store for 32 Lakes Coffee Roasters in the next year?
In the next 12 months, 32 Lakes has an incredible opportunity to expand into a large grocery chain that services nine communities on Vancouver Island. This is an opportunity the team has been working toward for many years. The secret to their success, Margot shares, is always striving to achieve community involvement.
"We strive to personalize our business by handing out samples, adjust our wholesale pricing for special sales, and personally deliver coffee to the store weekly, enabling us to build rapport with the staff and community."
Another reason Margot and her team at 32 Lakes stand out is their commitment to being environmentally conscious coffee roasters without compromising quality.
"We are a Carbon Neutral company operating with Vancouver Island Green Business and Surfrider Certifications granted to us by Synergy Enterprises in Victoria."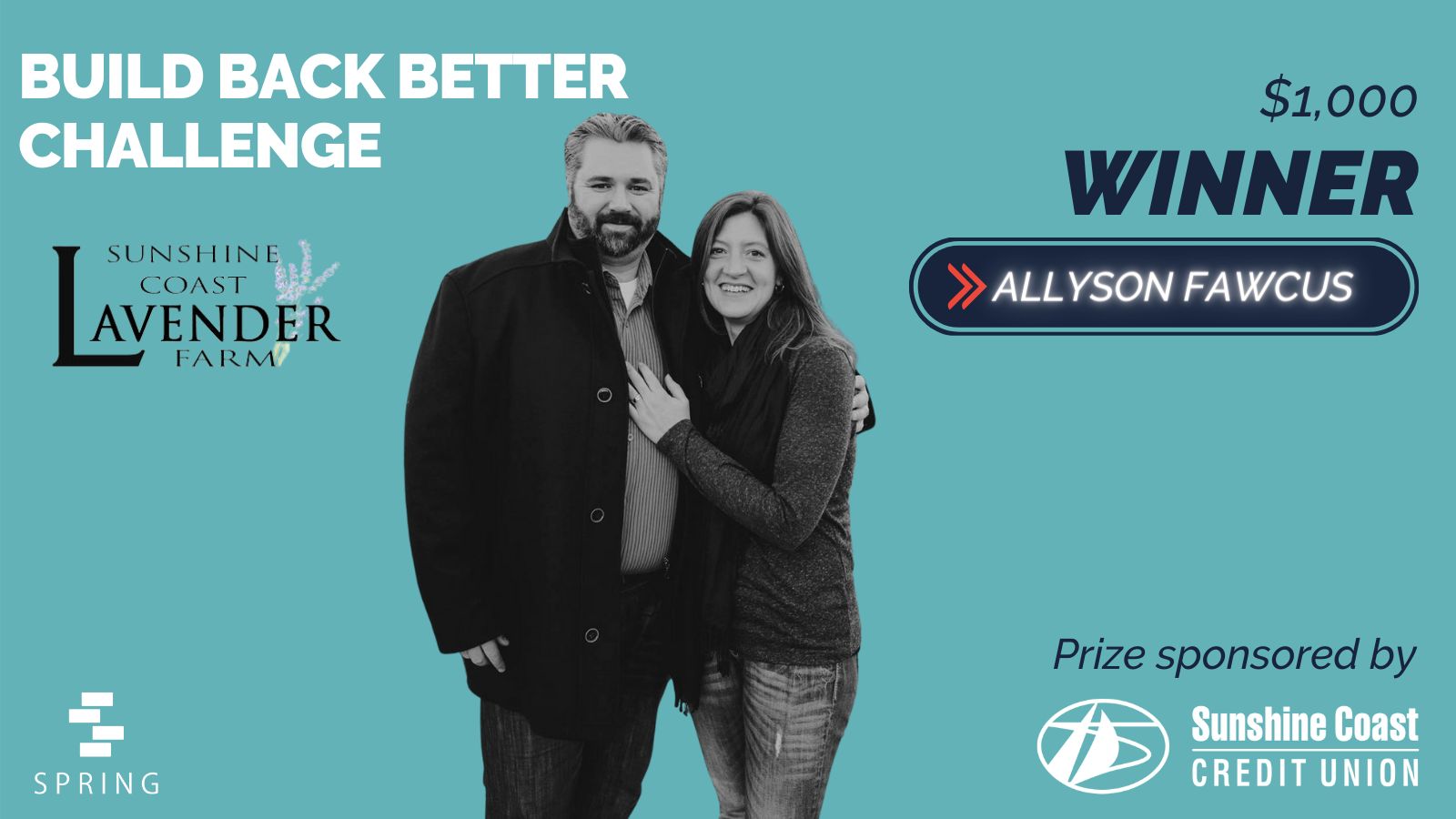 (Sunshine Coast Champion – $1,000)
The Sunshine Coast Lavender Farm is best described as a family operated farm creating quality, environmentally conscious value-added home and body products while working toward sustainable sales.
Allyson and her family currently cultivate four varieties of lavender for use in most of their Farm Crafted products, all of which are available through their website, at their Farm Store, and various local seasonal markets and fairs on the Sunshine Coast of British Columbia.
We love how Sunshine Coast Lavender Farm is all about providing hand-crafted, natural products to local residents and beyond without compromising sustainable and family-owned production.
What's in store for the Sunshine Coast Lavender Farm in the next year?
Next year, Sunshine Coast Lavender Farm is planning on implementing a unique 'farm-to-table' experience where customers purchase hand-crafted products from local stores and then visit the Farm where the products are made.
"A retail space to sell our products and gain new customers and the completion of our on-site tour gardens would enable us to show visitors and locals the full scope of our endeavour."
The family-owned Farm is also planning to work with and exposure towards other local makers of environmentally conscious, quality natural products. Other values-aligned businesses can sell their product at wholesale or rent shelf space for their products.
"We would share social media posts about this retail space and its' offerings, which would give each maker more exposure to a new customer base."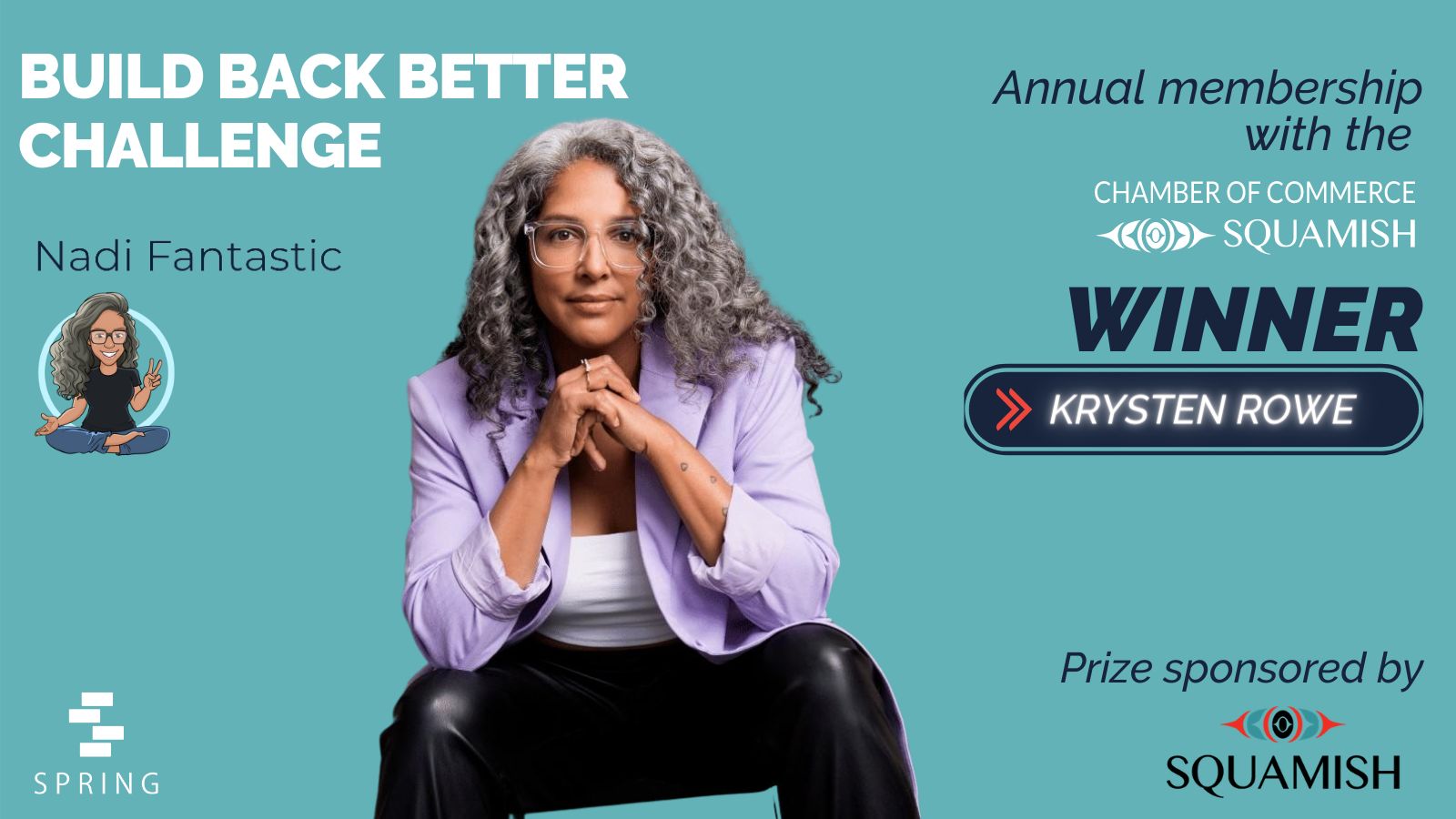 (annual membership with the Squamish Chamber of Commerce)
Nadi is a Diversity, Equity and Inclusion educator and keynote speaker who facilitates workshops and training sessions for educators, individuals, and workplace teams to engage in anti-discrimination and anti-racism conversations. Her work helps organizations and individuals connect with their humanity and personal goals to operate with zero tolerance for discrimination. We love how Krysten's work objective is to create genuine and long-term impact in the DEI space.
"With 2020 being a year of massive reflection for many individuals and businesses, we've seen an abundance of DEI committees formed with very little education of what actually fulfills the tasks of long term diversity, equity and inclusion protocols."
What's in store for Nadi Fantastic in the next year?
Krysten plans on achieving her objectives through three products and services: A Workplace Team Training Program, an Annual DEI Membership Program, and Virtual Events.
"My programs support organizations in training their teams and can support the DEI representative of the organization (if applicable) to keep the work going annually. That is the most effective route to creating long-standing organizations with equity and justice at the heart of their operations."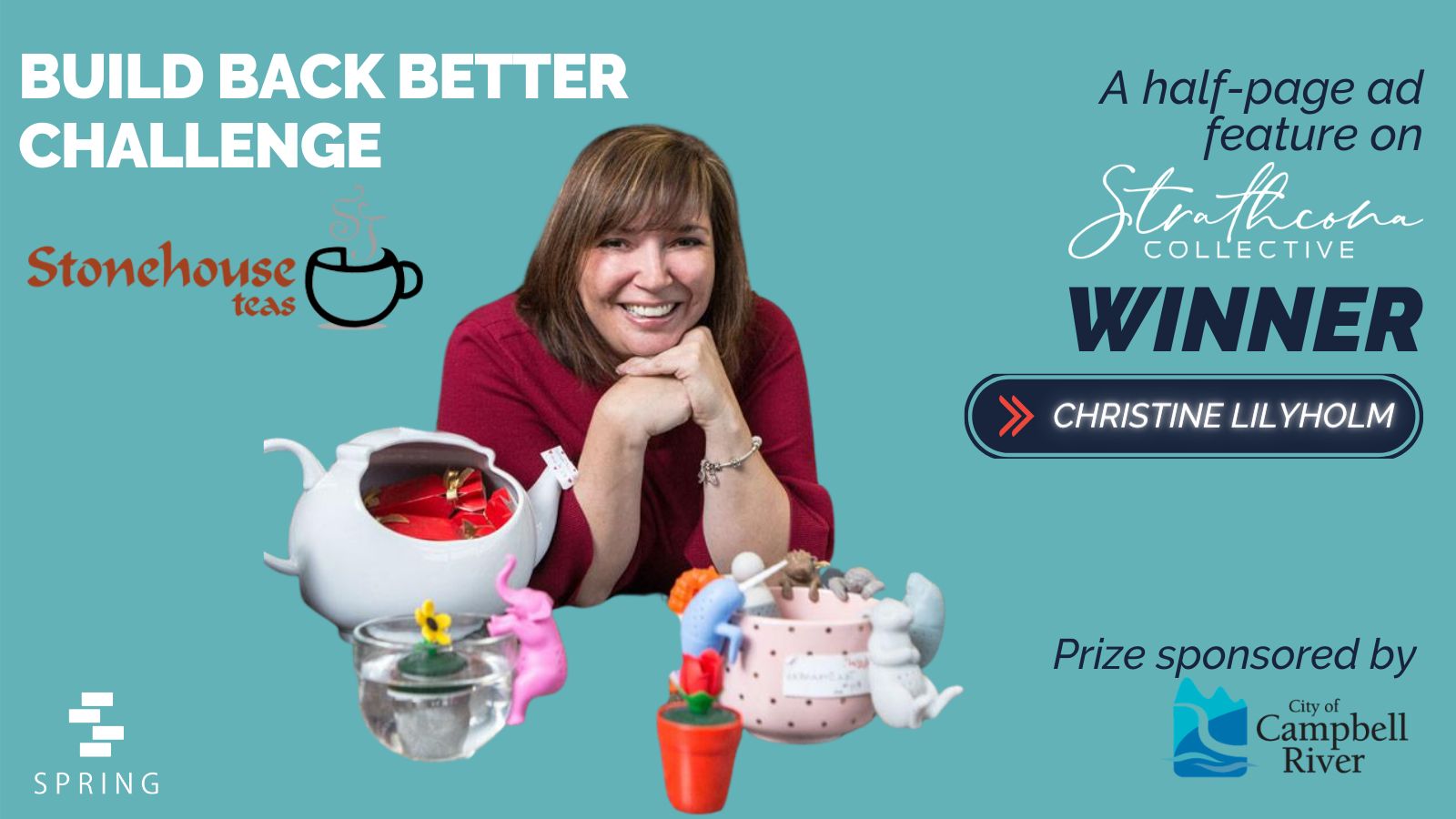 4th Place: Christine Lilyholm – Stonehouse Teas
(a half-page ad in the Strathcona Collective)
Stonehouse Teas offers over 120 different types of loose leaf teas, locally roasted organic Aroma coffee and other local products such as pottery and honey. Since taking over Stonehouse Teas in 2016, Christine continues its legacy of charm, coziness, and delight.
Well-known in the Campbell River community as the ideal place to escape the bustle of the day, Stonehouse Teas strives to be a space where anyone can "gather their thoughts and rejuvenate their mind and body."
Ever since joining the Resilience Program, Christine has been actively involved in the community, taking in every learning opportunity to serve her clients better. We can't wait to see what 2021 has in store for Christine and the crew at Stonehouse Teas!
Interested in joining the Business Resilience Program?